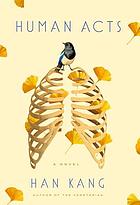 Han Kang's latest novel (2014, English translation 2016) is about the Gwangju Uprising in South Korea. In 1980 students from Jeonnam University protested against Chun Doo-hwan's government. The students were tortured, beaten, and shot by the government military. Ten days later, hundreds were dead.
Kang guides her readers through the uprising and its aftermath. Through chapters, we first learn about Dong-ho, who is dead and still processing the atrocities to him and around him. We then hear from his friend, a censored editor, a prisoner, a factory girl, and finally, Dong-ho's mother who still suffers from the loss thirty years later. Kang's narrative is poetic and, though describing horrific violence, somehow quiet. She allows the reader to slowly grapple with the historical event, an event I am sure many of us in the West who are younger than 40 have never knew occurred. Her prose provides space for the uninformed reader to contemplate the government-issued violence while also asking the deeper question, "what have we done?"
Please note: I received a free copy of this book from LibraryThing in exchange for a review.