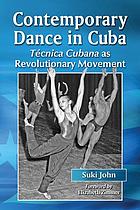 John, Suki. (2012). Contemporary Dance in Cuba: Tecnica Cubana as Revolutionary Movement. Jefferson, NC: McFarland & Company, Inc., Publishers.
Suki John has written a well-researched yet personal memoir on a contemporary dance movement in Cuba. Tecnica Cubana is both an art form and a political entity; it requires an understanding of many dance practices as well as knowing popular Cuban culture. Ms. John's frequent travels to the island account for the book's personal narrative and interviews with Cuba's most important choreographers. Because of this, Contemporary Dance in Cuba is a necessary text for anyone studying dance or Cuban culture. In an age lacking strong communication between the island and the United States, Ms. John's book also provides an unusual glimpse into the national pride of the Cuban people.
I received a free copy of this book through LibraryThing in exchange for a review.